Empower Yolo
provides twenty-four hour crisis intervention, emergency shelter, confidential counseling, training, legal assistance, and other services for individuals and families affected by domestic violence, sexual assault, stalking, human trafficking, and child abuse.
Empower Yolo
provides resource centers for community services to improve the health, social, educational and economic outcomes of Yolo County residents.
Empower Yolo
provides community outreach and educational programs about available resources to promote health, stability, and self-sufficiency for individuals and families.
Help is Only a Phone Call Away
Empower Yolo is here to help. You are not alone. Trained advocates are available 24/7 to provide free crisis intervention, emotional support, advocacy, information and referrals.
All calls to Empower Yolo are private and confidential.
Empower Yolo's Essential Services for the Community
We hope you and your families are healthy and safe.  We know that each day brings a new challenge for the members of our community.
Empower Yolo offices are open during regular office hours to provide services to individuals and families in need.
Appointments are encouraged.  Please call the office at the location you wish to visit.
Empower Yolo offers these and other services in Yolo County: safe shelter for victims of domestic violence/sexual assault/human trafficking, crisis line, restraining orders, family legal services, therapy, housing referrals, food referrals & distribution, health insurance by appointment, emergency clothing, hygiene products, diapers, case management, and other services as needed.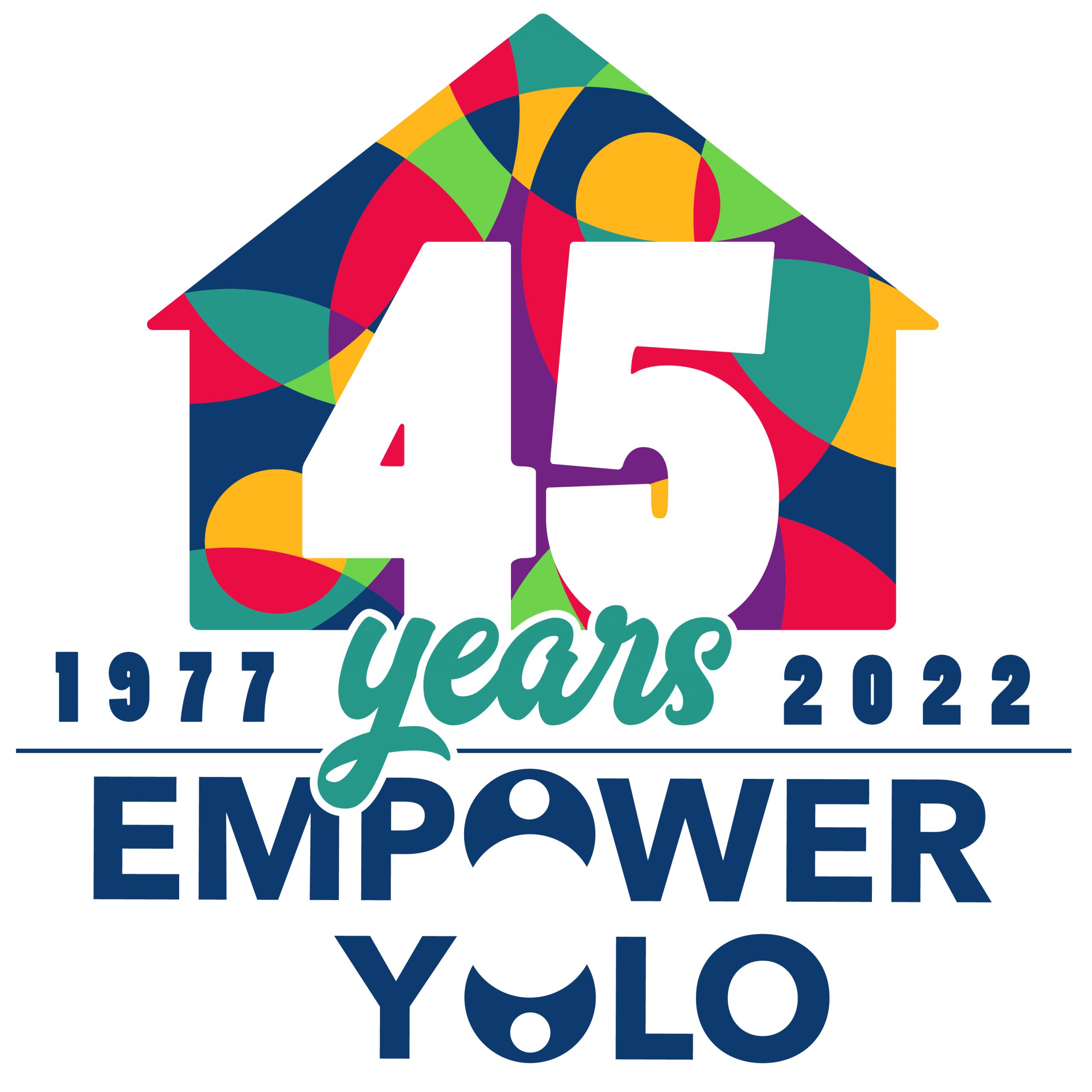 January is Human Trafficking Awareness Month:
January is Human Trafficking Awareness Month, a month to raise awareness about human trafficking issues and support survivors. In an effort to raise awareness, highlight issues, services, and resources for survivors Empower Yolo is hosting its annual human trafficking awareness month campaign; see the calendar of info and events below (a printable version can be found here).
Please follow our efforts throughout the month and participate where you can. Information will also be posted on Facebook @empoweryolo, Instagram @empower_yolo, and Twitter @empower_yolo. Donate to our human trafficking program any time to support survivors – donate here.
Thank you to Bayer for sponsoring Empower Yolo's Human Trafficking Awareness Month campaign again this year; we are grateful for their continued support.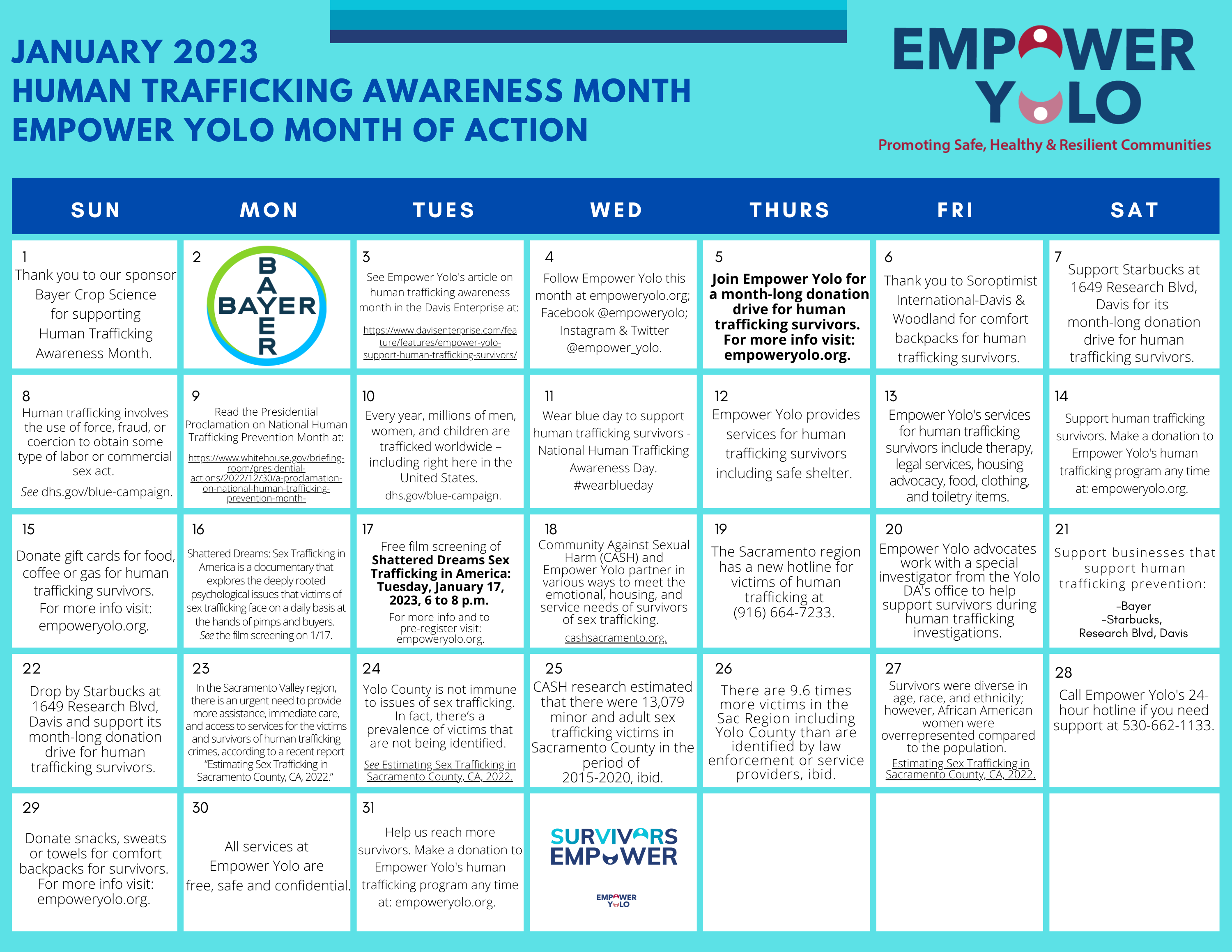 Join us for a month-long drive to support human trafficking survivors:
Empower Yolo in partnership with Soroptimist, Davis and Woodland will be hosting a drive for human trafficking survivors for the month of January.  Please donate new, travel-size toiletry items, or other helpful items listed. Donations can be dropped off at the main office at 175 Walnut Street, Woodland, or 441 D Street, Davis during office hours.  Please see the list of needed items below (a printable version of the flyer can be found here).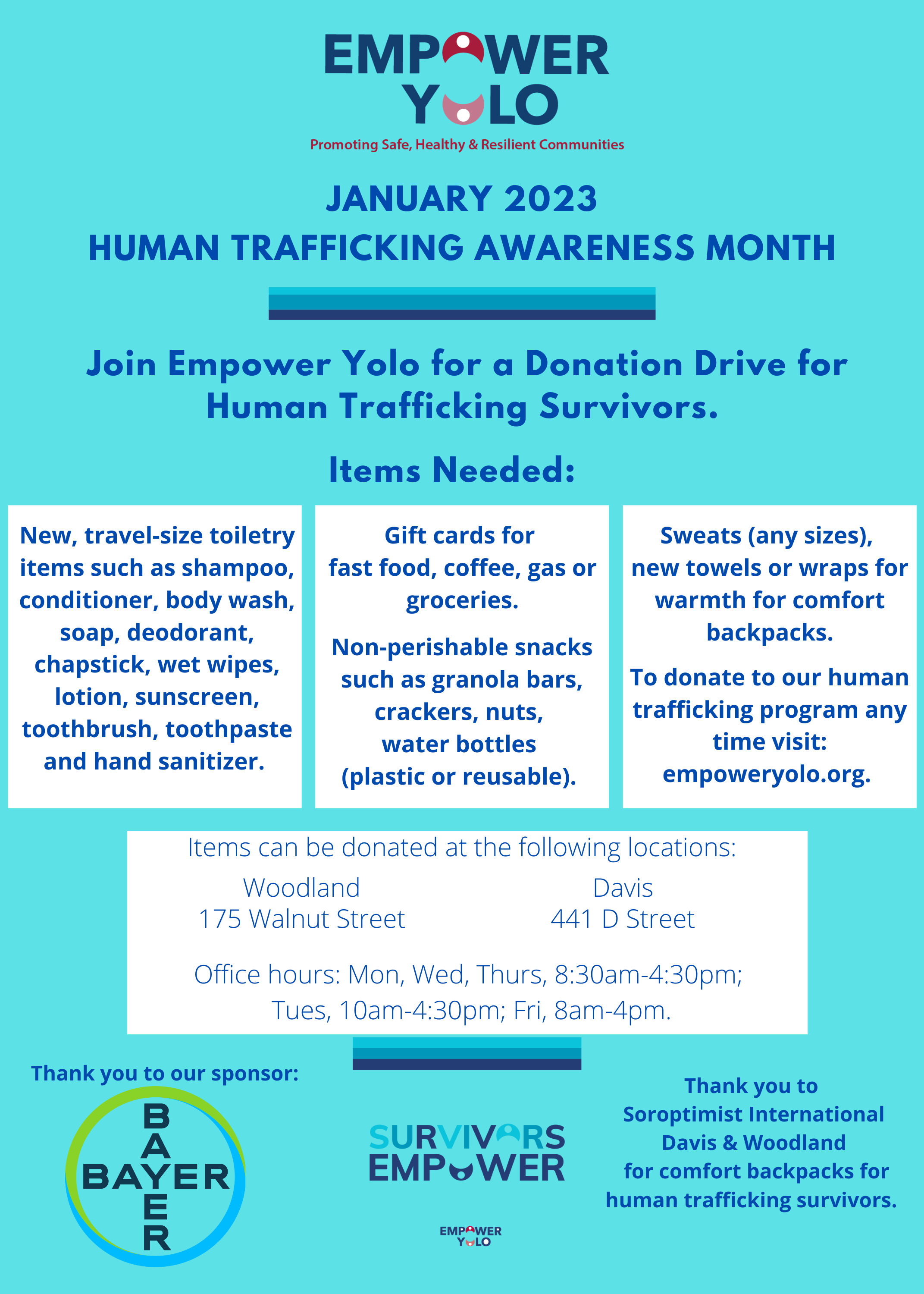 Join us for a free film screening Shattered Dreams Sex Trafficking in America – Tuesday, January 17, 2023, 6 to 8 p.m.
Shattered Dreams: Sex Trafficking in America is a first of its kind, feature length documentary that explores the deeply rooted psychological issues that victims of sex trafficking face on a daily basis at the hands of pimps and buyers. Through first-hand, heartbreaking testimony of abuse from three survivors of the illicit sex trade, the incredibly complex nature of this form of modern-day slavery is revealed. Investigative interviews with leading experts from across the country provide further insight on what drives the industry, exposing shocking revelations about the society we live in and the misconceptions many of us harbor that allow sex trafficking to thrive.
After the screening we will have a panel of local experts to talk about what we can do in Yolo County to support survivors. To register in advance and to enter the workshop enter the Zoom link: Register Here.
After registering, you will receive a confirmation email containing information about joining the meeting. We encourage community members to get involved by watching the film screening to learn more about the issues and what they can do to support survivors.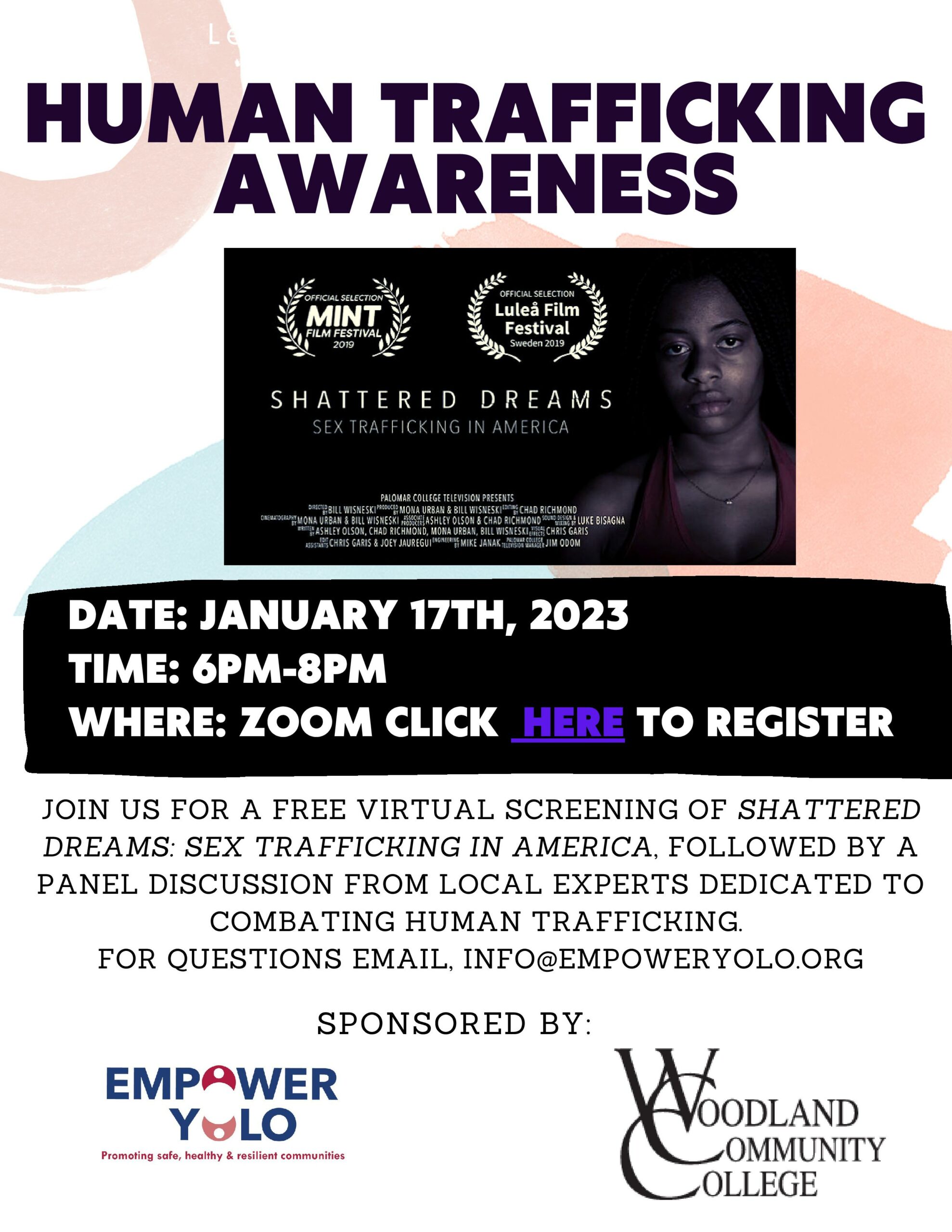 How Can I Help Empower Yolo?
Thank You to Our Generous Sponsors
Empower Yolo Resources Near You
Empower Yolo
Dowling Center
175 Walnut Street
Woodland, CA 95695
530-661-6336
D Street House
441 D Street
Davis, CA 95616
(530) 757-1261
KL Resource Center
9586 Mill Street
Knights Landing, CA 95645
(530) 661-5519
West Sacramento
1025 Triangle Court, Suite 600
West Sacramento, CA 95605
(916) 873-8824