Empower Yolo
provides twenty-four hour crisis intervention, emergency shelter, confidential counseling, training, legal assistance, and other services for individuals and families affected by domestic violence, sexual assault, stalking, human trafficking, and child abuse.
Empower Yolo
provides resource centers for community services to improve the health, social, educational and economic outcomes of Yolo County residents.
Empower Yolo
provides community outreach and educational programs about available resources to promote health, stability, and self-sufficiency for individuals and families.
Help is Only a Phone Call Away
Empower Yolo is here to help. You are not alone. Trained advocates are available 24/7 to provide free crisis intervention, emotional support, advocacy, information and referrals.
All calls to Empower Yolo are private and confidential.
24/7 Crisis Lines
530-662-1133 / 916-371-1907
Empower Yolo Main Line
530-661-6336
Help is Only a Phone Call Away
Click to Call
(Free, Private, and Confidential)
Empower Yolo's Services are Essential – We Remain Open to Serve the Community
We hope you and your families are healthy and safe.  We know that each day brings a new challenge for the community.
Empower Yolo's services are considered essential and we remain open during regular office hours to provide services to individuals and families in need.  Empower Yolo is following protocols and taking precautions to keep our clients, staff and volunteers healthy and safe.
Appointments are encouraged.  Please call the office at the location you wish to visit.
Services by location are available here.​
Empower Yolo Office Hours:
Main Office, 175 Walnut Street, Woodland
Monday, Wednesday, Thursday, 8:30 a.m. – 4:30 p.m., Tuesday, 10 a.m. – 4:30 p.m.,       
Friday, 8:00 a.m. – 4:00 p.m., appointments encouraged, (530) 661-6336
D Street Resource Center, 441 D Street, Davis
Monday, Wednesday, Thursday, 8.30 a.m. – 4:30 p.m., Tuesday, 10 a.m. – 4:30 p.m., 
Friday, 8:00 a.m. – 4:00 p.m., appointments encouraged, (530) 757-1261
West Sacramento Office, 1025 Triangle Ct. #600, West Sacramento
Monday – Friday, 10:00 a.m. – 3:00 p.m., (916) 873-8824
Knights Landing Resource Center, 9586 Mill Street, Knights Landing
Monday, Wednesday, Thursday, Friday, 8:00 a.m. – 2:30 p.m., Tuesday, 10 a.m. – 2:30 p.m., (530) 661-5519
24-hour crisis line: (530) 662-1133
Services provided: safe shelter for victims of domestic violence/sexual assault/human trafficking, crisis line, restraining orders, family legal services, therapy , housing referrals, food referrals & distribution, health insurance by appointment, emergency clothing, hygiene products, diapers, case management, and other services as needed.
Need Help with Unpaid Rent?

The CA COVID-19 Rent Relief program is designed to help low-income Californians through the payment of unpaid rent to landlords.
January is Human Trafficking Awareness Month:
Human trafficking is the business of stealing freedom for profit. In some cases, traffickers trick, defraud or physically force victims into selling sex. In others, victims are lied to, assaulted, threatened, or manipulated into working under inhumane, illegal, or otherwise unacceptable conditions. It is a multi-billion dollar criminal industry that denies freedom to 24.9 million people around the world; see polarisproject.org.
Empower Yolo provides services for human trafficking survivors including safe shelter. There's also a designated human trafficking advocate who works with survivors providing support, information, resources, and advocacy.  Help us reach more victims – participate in our awareness campaign and make a donation to our human trafficking program any time at empoweryolo.org.
Please join Empower Yolo this month for our Human Trafficking Awareness Campaign to learn more about the issues, raise awareness and support human trafficking survivors. Follow Empower Yolo's efforts during the month – join us in the dialogue and the movement to help end human trafficking.
For a printable version of the awareness month calendar go to: 2022 Human Trafficking Awareness Month Calendar.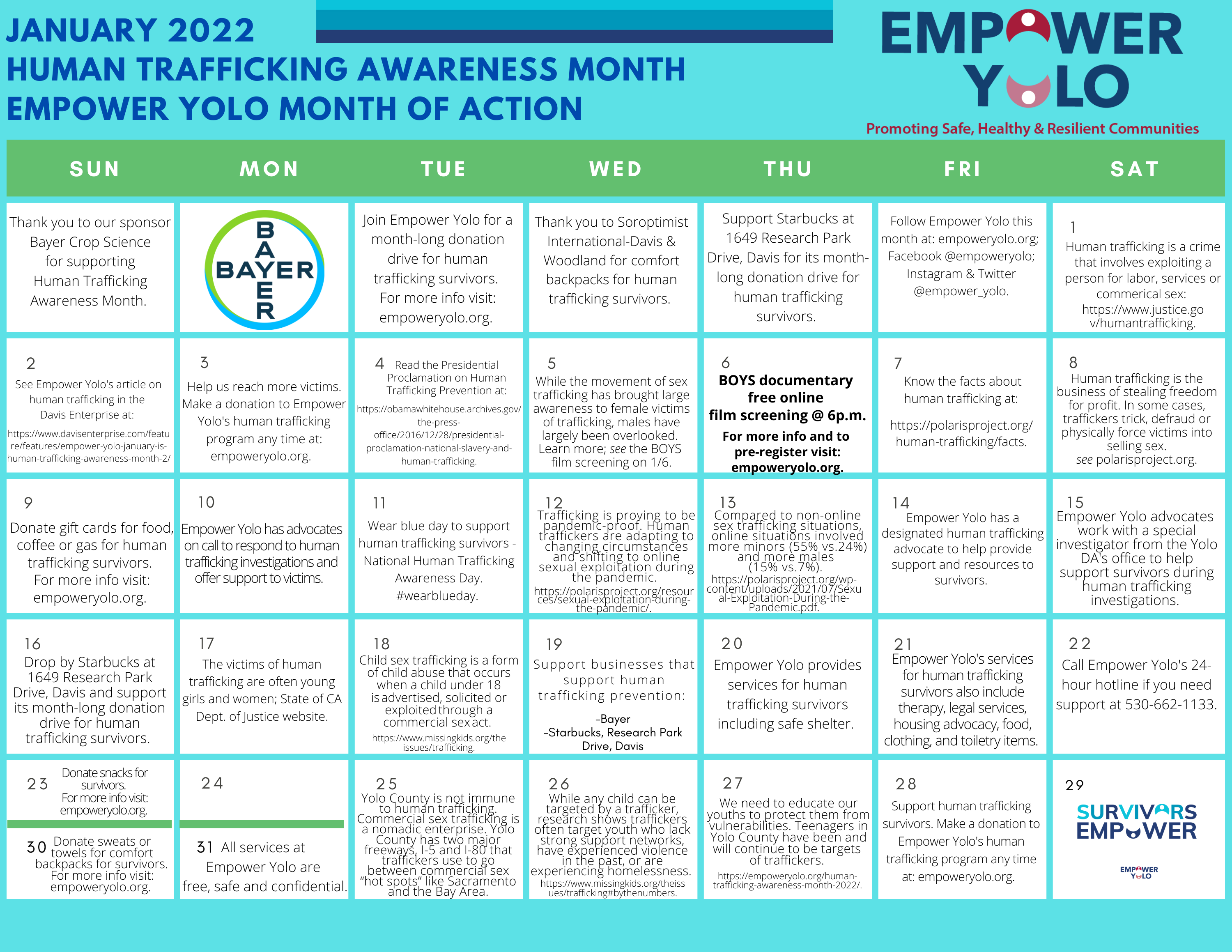 Toiletry Drive for Human Trafficking Survivors:
Empower Yolo is hosting a month-long toiletry drive for human trafficking survivors during the month of January.  Please see the most needed items below. Donations can be dropped off at the main office in Woodland or the Resource Center in Davis during office hours.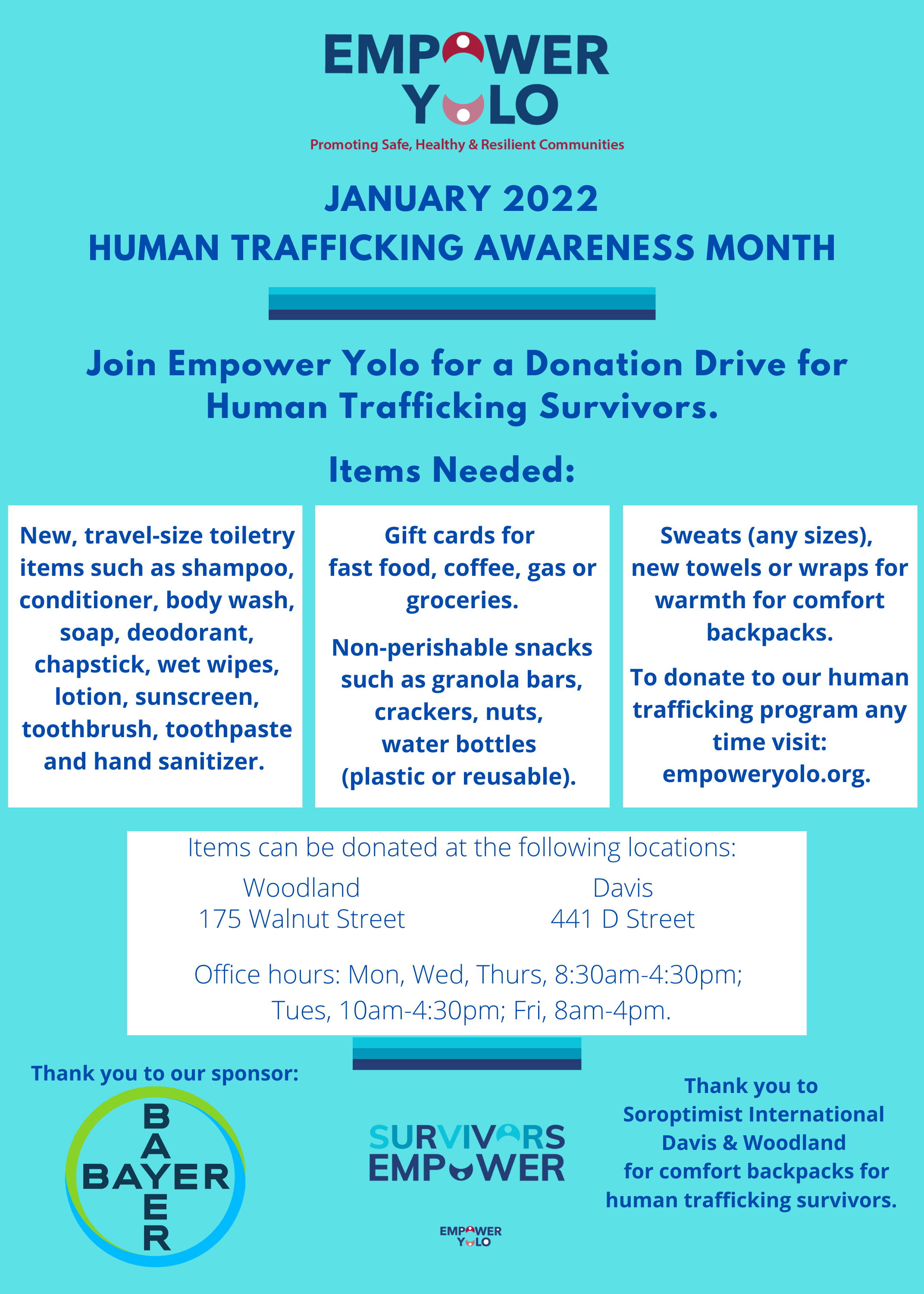 Join Empower Yolo for a free online screening of the documentary BOYS – January 6, 2022 at 6 p.m.  
"Sex trafficking is a worldwide epidemic, a tragedy that affects women, men, and children. Men and boys throughout the United States are trapped in modern-day slavery and forced to sell their bodies for sex. While the movement of sex trafficking has brought large awareness to female victims of trafficking, males have largely been overlooked. BOYS seeks to do just that – bring validity to the truth that males are victims of sex trafficking here in the United States. A panel of community experts will follow the film. Pre-register at: https://us06web.zoom.us/meeting/register/tZcoc-6gpjIjHtAnB6Tq06WxxRZbAIeuy6UO.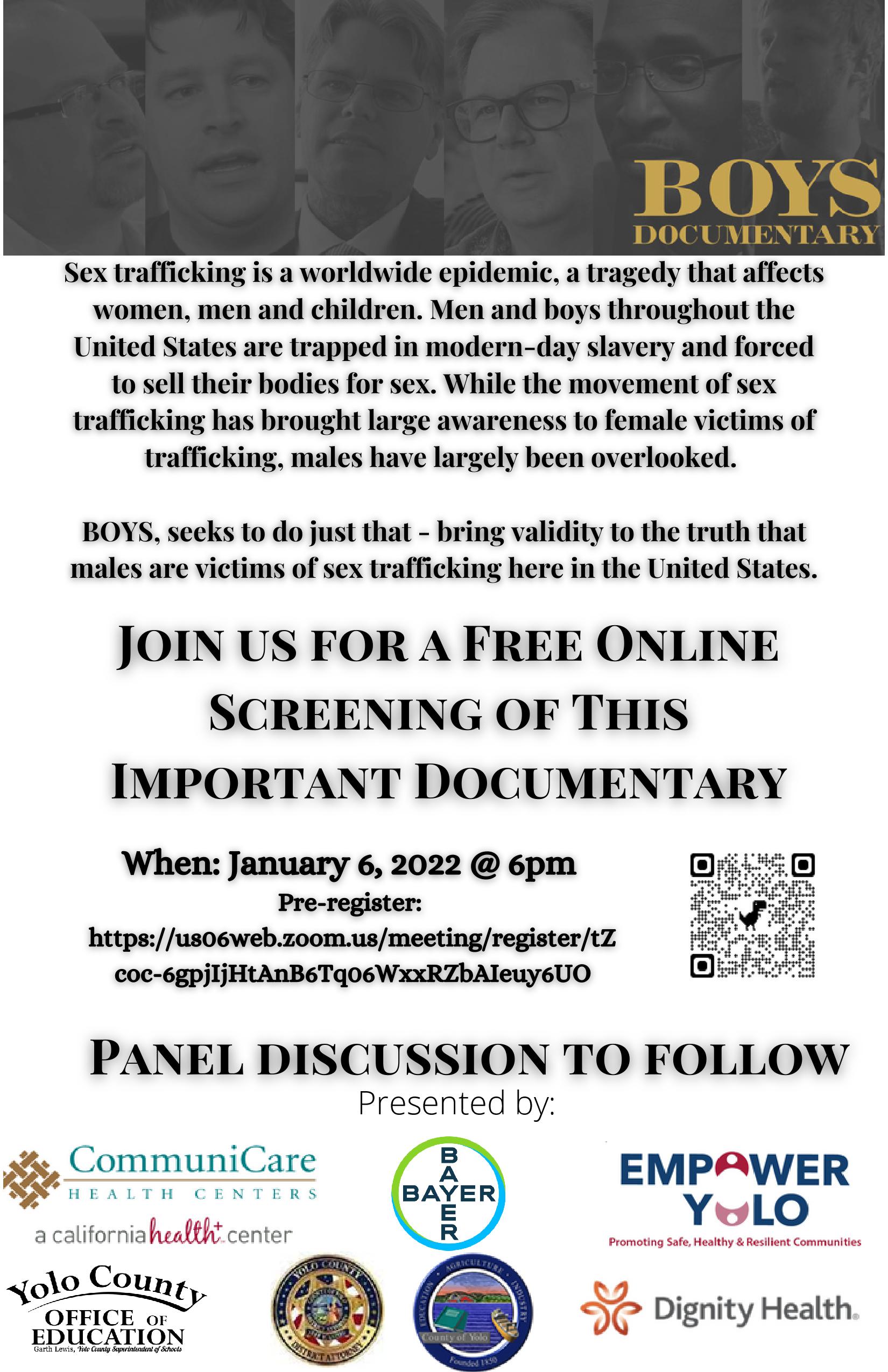 Thank you for supporting Empower Yolo this holiday season!
Empower Yolo is grateful for its donors, sponsors, supporters, and community partners for their continued outpouring of generosity and support this holiday season. Thank you for thinking of our clients and letting them know their community supports them.
Follow Empower Yolo in 2022!
Help us reach more survivors and families in need. Stay connected with us in the New Year; join our email list and receive updates on services, opportunities, and events. Encourage your friends to like and follow us to learn more.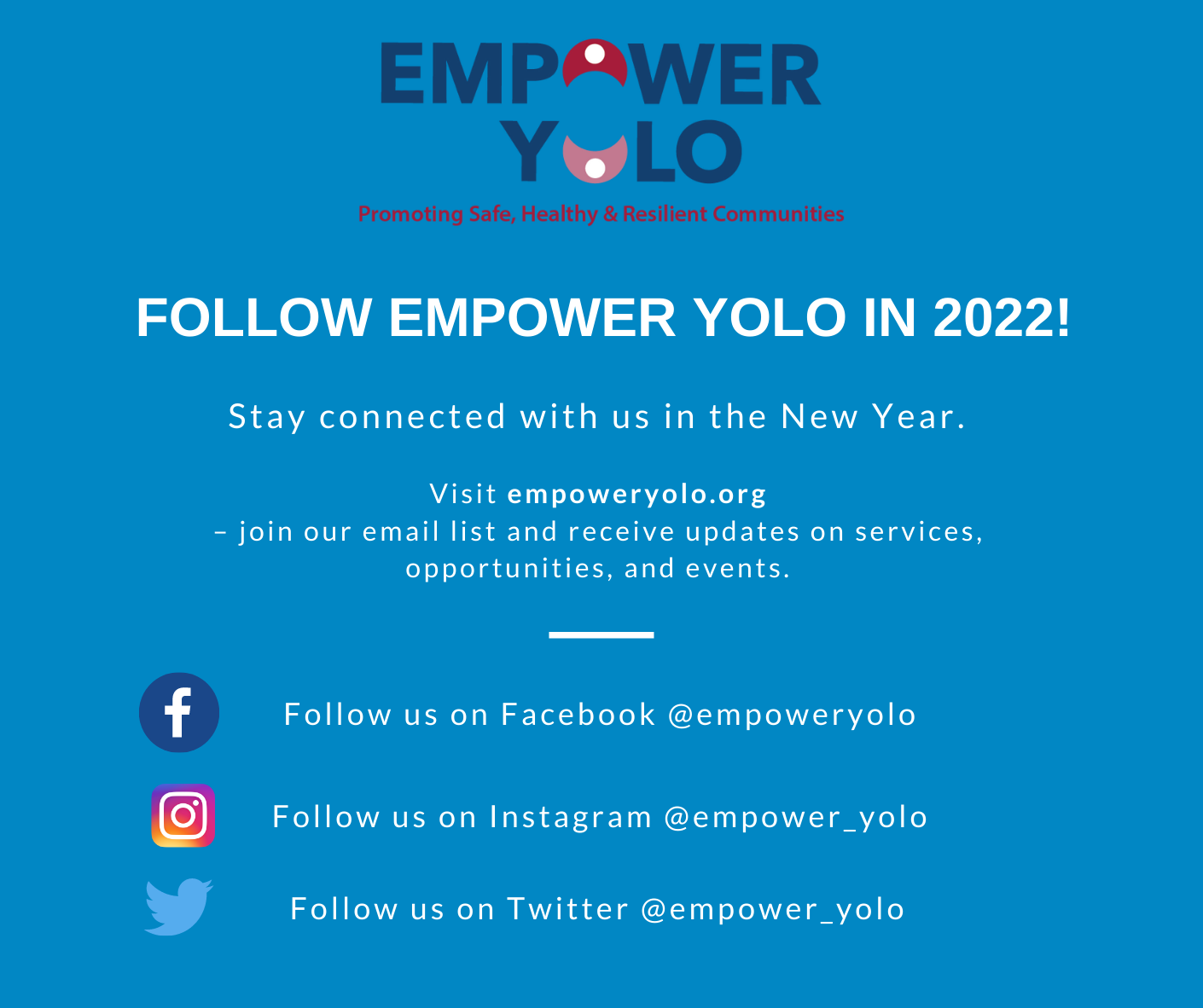 In The News at Empower Yolo
As we ring in a new year we also recognize January as Human Trafficking Awareness Month - a month to raise awareness about human trafficking issues and support survivors.  Human trafficking is the business of stealing freedom for profit. In some cases, traffickers...
read more
How Can I Help Empower Yolo?
Thank You to Our Generous Sponsors
Empower Yolo Resources Near You
Empower Yolo
Dowling Center
175 Walnut Street
Woodland, CA 95695
530-661-6336
D Street House
441 D Street
Davis, CA 95616
(530) 757-1261
KL Resource Center
9586 Mill Street
Knights Landing, CA 95645
(530) 661-5519
West Sacramento
1025 Triangle Court, Suite 600
West Sacramento, CA 95605
(916) 873-8824
Family Resource Center - Marguerite Montgomery Elementary School