Empower Yolo
provides twenty-four hour crisis intervention, emergency shelter, confidential counseling, training, legal assistance, and other services for individuals and families affected by domestic violence, sexual assault, stalking, human trafficking, and child abuse.
Empower Yolo
provides resource centers for community services to improve the health, social, educational and economic outcomes of Yolo County residents.
Empower Yolo
provides community outreach and educational programs about available resources to promote health, stability, and self-sufficiency for individuals and families.
Help is Only a Phone Call Away
Empower Yolo is here to help. You are not alone. Trained advocates are available 24/7 to provide free crisis intervention, emotional support, advocacy, information and referrals.
All calls to Empower Yolo are private and confidential.
24/7 Crisis Lines
530-662-1133 / 916-371-1907
Empower Yolo Main Line
530-661-6336
Help is Only a Phone Call Away
Click to Call
(Free, Private, and Confidential)
Empower Yolo's Services are Essential – We Remain Open to Serve the Community
We hope you and your families are healthy and safe.  We know that each day brings a new challenge for the community.
Empower Yolo's services are considered essential and we remain open during regular office hours to provide services to individuals and families in need.  Empower Yolo is following protocols and taking precautions to keep our clients, staff and volunteers healthy and safe.
Appointments are encouraged.  Please call the office at the location you wish to visit.
Services by location are available here.​
Empower Yolo Office Hours:
Main Office, 175 Walnut Street, Woodland
Monday, Wednesday, Thursday, 8:30 a.m. – 4:30 p.m., Tuesday, 10 a.m. – 4:30 p.m.,       
Friday, 8:00 a.m. – 4:00 p.m., appointments encouraged, (530) 661-6336
D Street Resource Center, 441 D Street, Davis
Monday, Wednesday, Thursday, 8.30 a.m. – 4:30 p.m., Tuesday, 10 a.m. – 4:30 p.m., 
Friday, 8:00 a.m. – 4:00 p.m., appointments encouraged, (530) 757-1261
West Sacramento Office, 1025 Triangle Ct. #600, West Sacramento
Monday – Friday, 10:00 a.m. – 3:00 p.m., (916) 873-8824
Knights Landing Resource Center, 9586 Mill Street, Knights Landing
Monday, Wednesday, Thursday, Friday, 8:00 a.m. – 2:30 p.m., Tuesday, 10 a.m. – 2:30 p.m., (530) 661-5519
24-hour crisis line: (530) 662-1133
Services provided: safe shelter for victims of domestic violence/sexual assault/human trafficking, crisis line, restraining orders, family legal services, therapy , housing referrals, food referrals & distribution, health insurance by appointment, emergency clothing, hygiene products, diapers, case management, and other services as needed.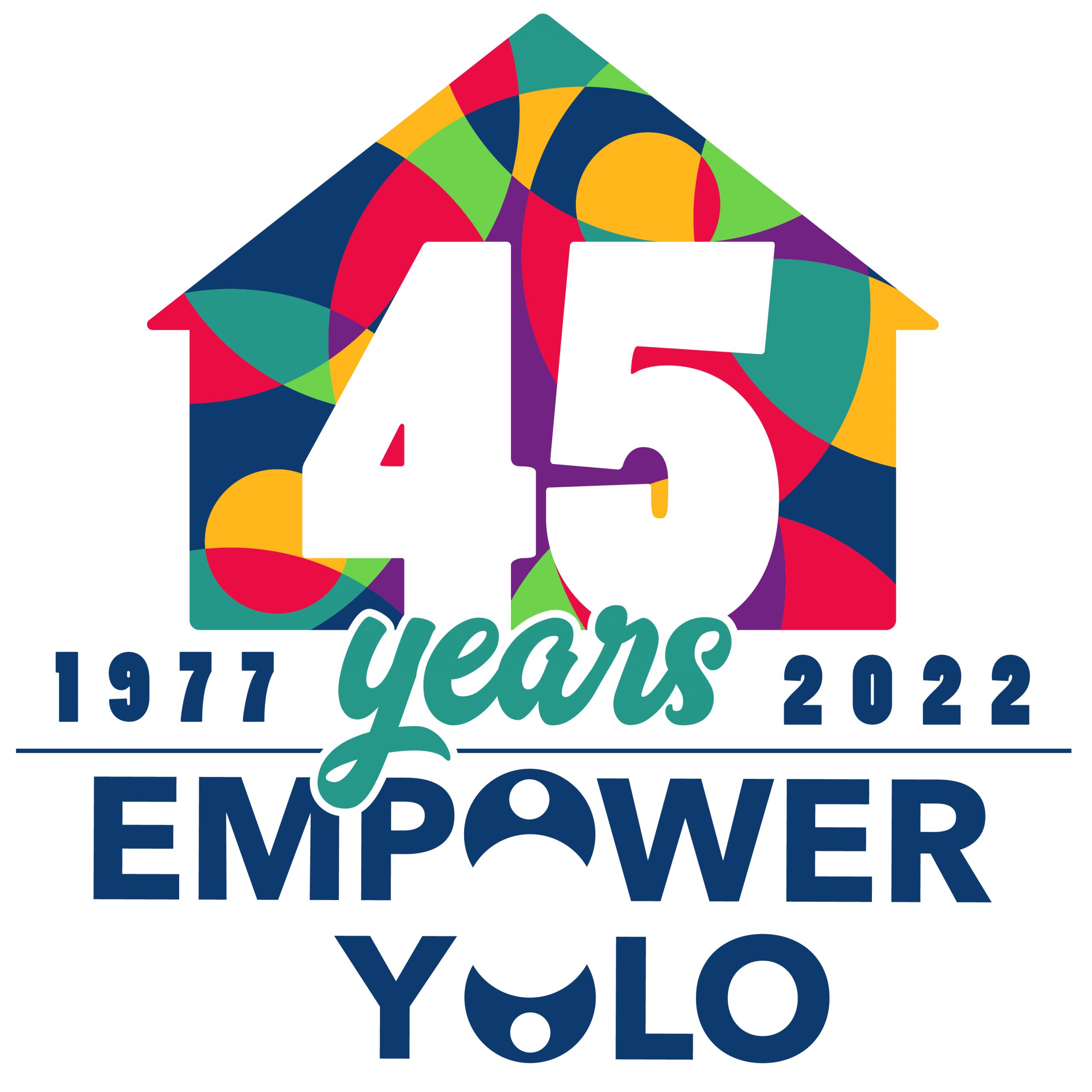 Thank you for celebrating 45 years with us!
Thank you to our donors, supporters, elected officials and community members for attending Empower Yolo's 45th anniversary open house. It was a wonderful event celebrating 45 years of providing services to survivors and families in need Yolo County.
If you weren't able to attend you can still show your support through our board challenge: any donation made through the end of our fiscal year (June 30) will be matched up to $10,000 by Empower Yolo's board to help us reach our goal of supporting our shelter and permanently housing 45 survivors. Thank you for celebrating Empower Yolo's 45th year of serving Yolo County making our community safe, healthy and resilient.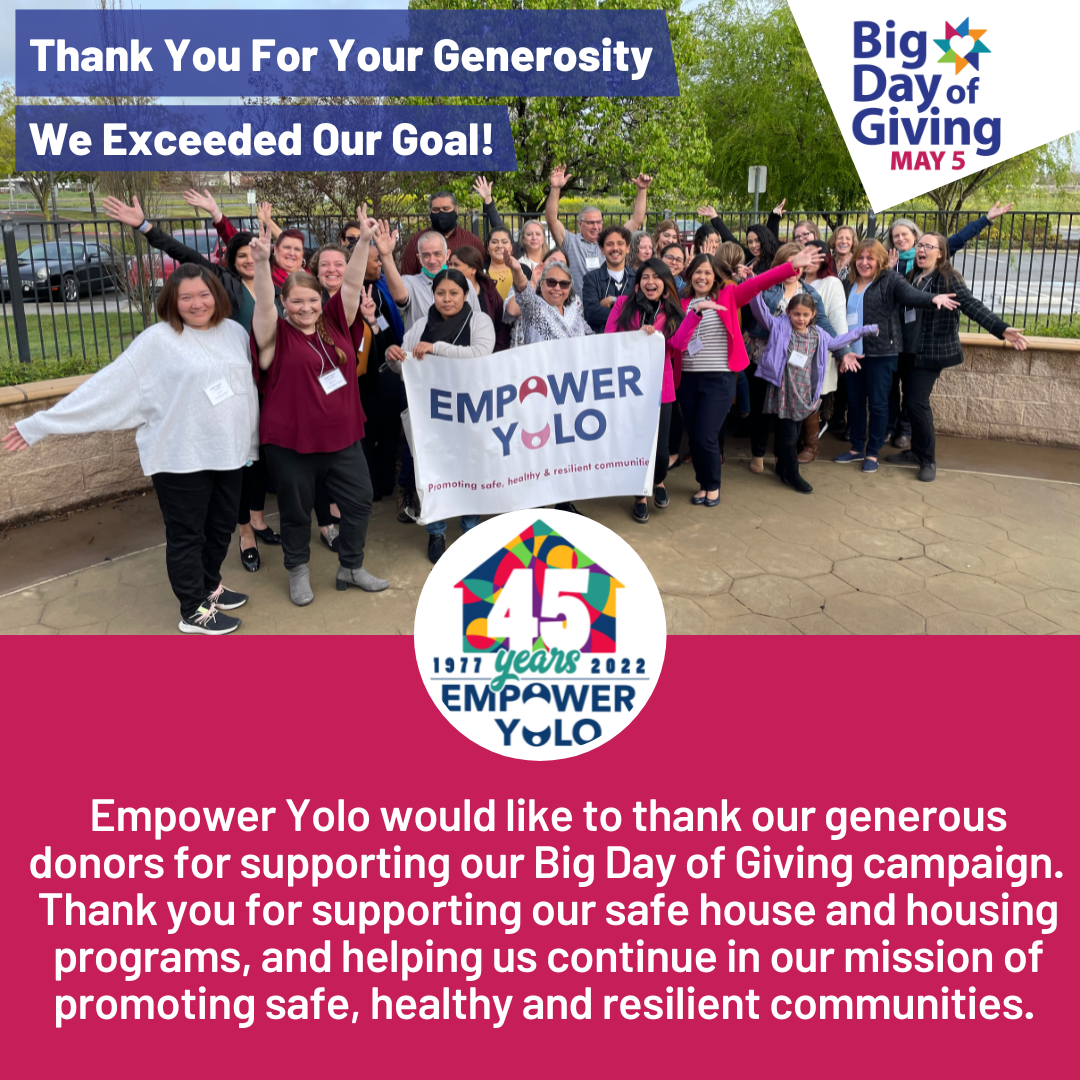 Thank you for your generosity on Big Day of Giving!
Empower Yolo would like to thank our wonderful, generous donors for supporting our safe house, our housing programs and the increase in services we've seen in the last two years.
Because of your generosity we exceeded our goal raising $50,610 by 178 donors. A special thank you goes out to our matching donors, Susan Starkweather Stone, Susan Gefter and an anonymous donor. We appreciate their generosity and support!
Thank you for keeping our clients and the families we serve in your hearts. On behalf of the board of directors, staff and clients of Empower Yolo thank you for showing us that our work matters, and thank you for showing our clients that their community supports them. 
Empower Yolo summer camp programs:
Empower Yolo Kids Day Camp at the shelter –
Kids Day Camp at Empower Yolo's safe house is an 8-week program packed with fun activities for the children staying there during the summer.  Campers will have the opportunity to play, create, and explore while in a safe and supervised setting by Empower Yolo's trained staff. "Camp allows children to experience activities that they may not have access to outside of the safe house. It allows positive social interactions and allows the children to develop strategies to navigate social situations and empower them to make decisions," – Natalia Villagomez, lead child advocate, Empower Yolo.
The community can support Empower Yolo's Kids Days Camp at the shelter by donating snacks, water, outdoor toys and activities, gift cards for lunch, or sponsor a fun Friday for the kids like movie tickets and tickets to local community pools.  Donations can be made at Empower Yolo's Davis or Woodland offices during office hours. For questions about donations contact Natalia Villagomez at [email protected].
ASSETs Kids Day Camp –
Summer camp opportunity for children ages 7-12.  The camp will be hosted at Woodland High School from July 20th-August 5th and we will be doing a variety of sports activities and crafts led by high school leads.
Clients can either register their children through our Google Form online or they can sign up at the front desk at the main office at 175 Walnut Street, Woodland.
Here is the link to register online: ASSETs Day Camp register here. If you have any questions about the ASSETs Kids Day Camp contact Tony Morales at [email protected].
In The News at Empower Yolo
Empower Yolo welcomed the community into its home at its main office the Dowling Center at 175 Walnut Street in Woodland on Friday, June 3, 2022 from 4-7 p.m. for its 45th anniversary open house celebration.  Guests enjoyed food and music, toured offices at the old...
read more
How Can I Help Empower Yolo?
Thank You to Our Generous Sponsors
Empower Yolo Resources Near You
Empower Yolo
Dowling Center
175 Walnut Street
Woodland, CA 95695
530-661-6336
D Street House
441 D Street
Davis, CA 95616
(530) 757-1261
KL Resource Center
9586 Mill Street
Knights Landing, CA 95645
(530) 661-5519
West Sacramento
1025 Triangle Court, Suite 600
West Sacramento, CA 95605
(916) 873-8824
Family Resource Center - Marguerite Montgomery Elementary School