Empower Yolo
provides twenty-four hour crisis intervention, emergency shelter, confidential counseling, training, legal assistance, and other services for individuals and families affected by domestic violence, sexual assault, stalking, human trafficking, and child abuse.
Empower Yolo
provides resource centers for community services to improve the health, social, educational and economic outcomes of Yolo County residents.
Empower Yolo
provides community outreach and educational programs about available resources to promote health, stability, and self-sufficiency for individuals and families.
Help is Only a Phone Call Away
Empower Yolo is here to help. You are not alone. Trained advocates are available 24/7 to provide free crisis intervention, emotional support, advocacy, information and referrals.
All calls to Empower Yolo are private and confidential.
Empower Yolo's Essential Services for the Community
We hope you and your families are healthy and safe.  We know that each day brings a new challenge for the members of our community.
Empower Yolo offices are open during regular office hours to provide services to individuals and families in need.
Appointments are encouraged.  Please call the office at the location you wish to visit.
Empower Yolo offers these and other services in Yolo County: safe shelter for victims of domestic violence/sexual assault/human trafficking, crisis line, restraining orders, family legal services, therapy, housing referrals, food referrals & distribution, health insurance by appointment, emergency clothing, hygiene products, diapers, case management, and other services as needed.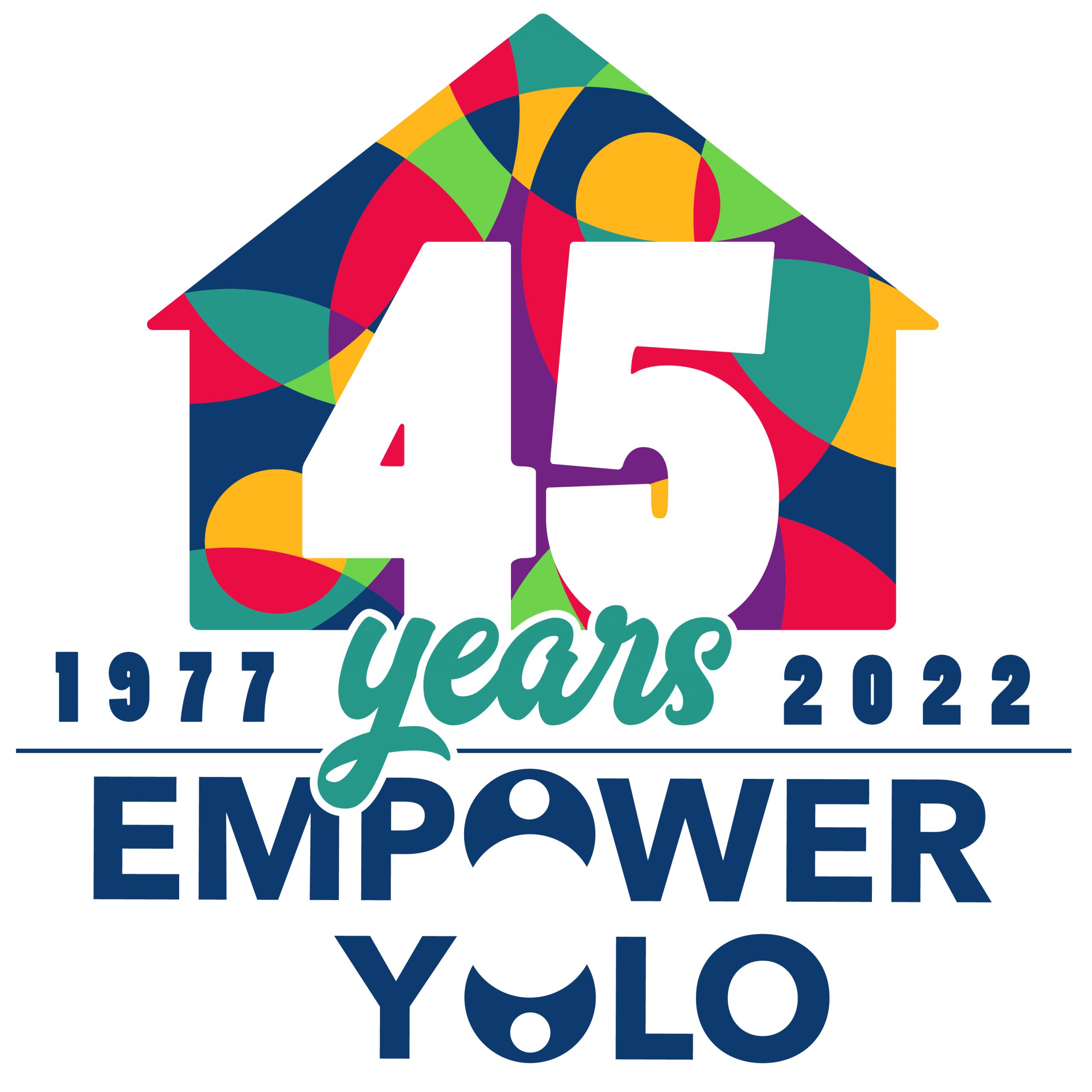 Thank you for celebrating 45 years with us!
Thank you to our donors, supporters, elected officials and community members for attending Empower Yolo's 45th anniversary open house. It was a wonderful event celebrating 45 years of providing services to survivors and families in need Yolo County.
If you weren't able to attend you can still show your support by donating any time. Thank you for celebrating Empower Yolo's 45th year of serving Yolo County making our community safe, healthy and resilient.
Back to School at Empower Yolo:
Back to school at the shelter –
If you would like to support the children at the safe house going back to school donating backpacks with supplies, clothing, gift cards for transportation, gift cards for food, or snacks and drinks are always welcome. The safe house also provides after school tutoring for the children led by local high school students where they provide snacks and drinks for the kids. These types of donations are needed all year round. For questions about donations contact Natalia Villagomez at [email protected].
Donations can be brought to main office at 175 Walnut Street in Woodland, or the Resource Center at 441 D Street, Davis during office hours; Monday, Wednesday, Thursday 8:30 a.m. – 4:30 p.m.; Tuesdays, 10 a.m. – 4:30 p.m.; Fridays, 8 a.m. to 4 p.m. Thank you for your generosity and support!
Back to school for the After School Safety and Enrichment for Teens program (ASSETs)  –
School supplies such as backpacks, pencils, pens and any other items are donations ASSETs will gladly accept and provide to students in need. Funding is also limited within ASSETs and we welcome financial help to provide quality programming for our students. If you are interested in supporting ASSETs in any way, please contact Tony Morales at [email protected].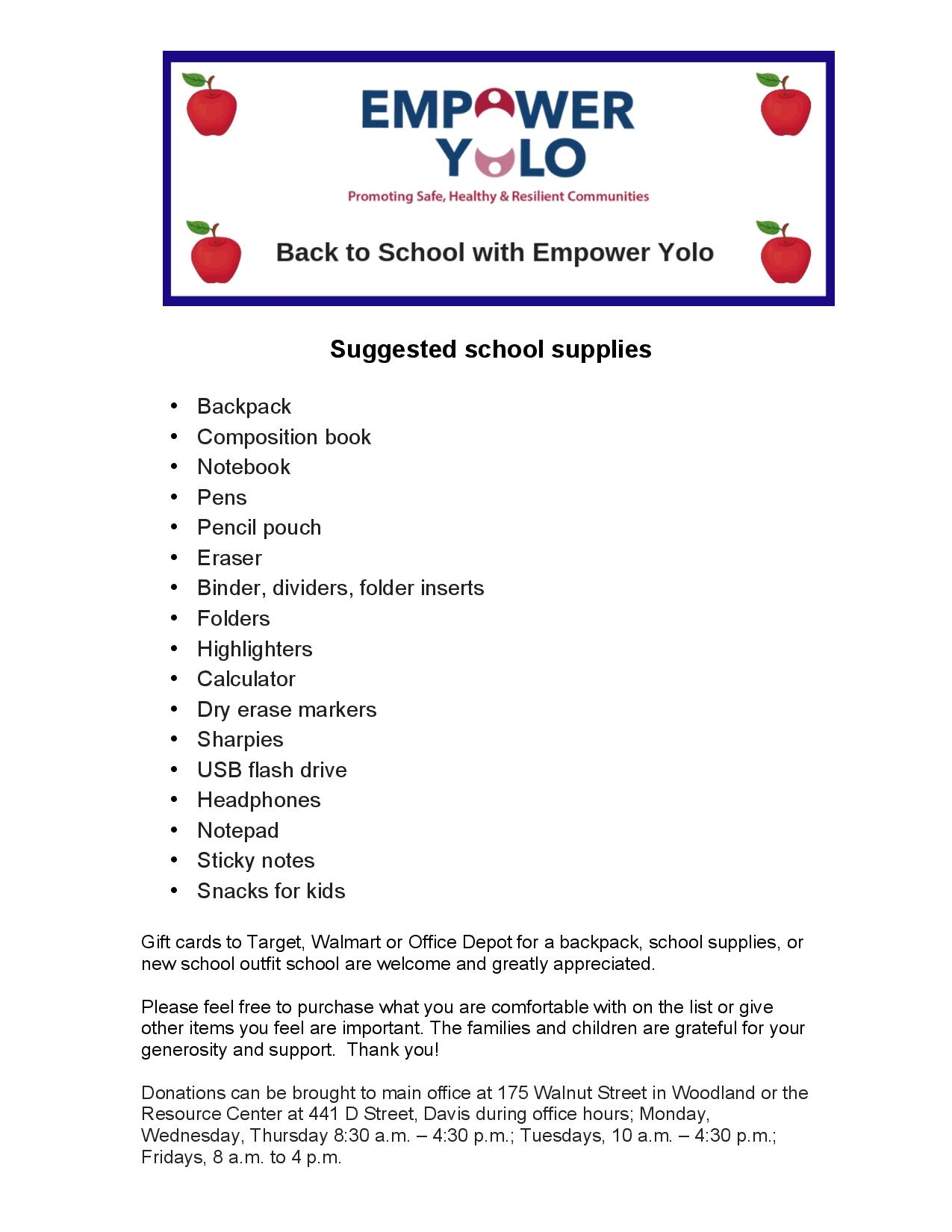 In The News at Empower Yolo
Despite the many challenges families are facing in our community's "new normal", Empower Yolo's shelter staff and After School Safety and Enrichment for Teens (ASSETs) staff are preparing the kids for a successful, new school year. Back to school planning at Empower...
read more
How Can I Help Empower Yolo?
Thank You to Our Generous Sponsors
Empower Yolo Resources Near You
Empower Yolo
Dowling Center
175 Walnut Street
Woodland, CA 95695
530-661-6336
D Street House
441 D Street
Davis, CA 95616
(530) 757-1261
KL Resource Center
9586 Mill Street
Knights Landing, CA 95645
(530) 661-5519
West Sacramento
1025 Triangle Court, Suite 600
West Sacramento, CA 95605
(916) 873-8824