Empower Yolo
provides twenty-four hour crisis intervention, emergency shelter, confidential counseling, training, legal assistance, and other services for individuals and families affected by domestic violence, sexual assault, stalking, human trafficking, and child abuse.
Empower Yolo
provides resource centers for community services to improve the health, social, educational and economic outcomes of Yolo County residents.
Empower Yolo
provides community outreach and educational programs about available resources to promote health, stability, and self-sufficiency for individuals and families.
Help is Only a Phone Call Away
Empower Yolo is here to help. You are not alone. Trained advocates are available 24/7 to provide free crisis intervention, emotional support, advocacy, information and referrals.
All calls to Empower Yolo are private and confidential.
24/7 Crisis Lines
530-662-1133 / 916-371-1907
Empower Yolo Main Line
530-661-6336
Help is Only a Phone Call Away
Click to Call
(Free, Private, and Confidential)
Empower Yolo's Services are Essential – We Remain Open to Serve the Community
We hope you and your families are healthy and safe.  We know that each day brings a new challenge for the community.
Empower Yolo's services are considered essential and we remain open during regular office hours to provide services to individuals and families in need.  Empower Yolo is following protocols and taking precautions to keep our clients, staff and volunteers healthy and safe.
Appointments are encouraged.  Please call the office at the location you wish to visit. 
Services by location are available here.​
Empower Yolo Office Hours:
Main Office, 175 Walnut Street, Woodland
Monday – Thursday, 8:30 a.m. – 4:30 p.m., Friday, 8:00 a.m. – 4:00 p.m.
appointments encouraged, (530) 661-6336
D Street Resource Center, 441 D Street, Davis
Monday – Thursday, 8.30 a.m. – 4:30 p.m., Fridays, 8:00 a.m. – 4:00 p.m.
appointments encouraged, (530) 757-1261
West Sacramento Office, 1025 Triangle Ct. #600, West Sacramento
Monday – Friday, 10:00 a.m. – 3:00 p.m., by appointment only, (916) 873-8824
Knights Landing Resource Center, 9586 Mill Street, Knights Landing
Monday – Friday, 8:00 a.m. – 2:30 p.m., (530) 735-1776
24-hour crisis line: (530) 662-1133
Services provided: safe shelter for victims of domestic violence/sexual assault/human trafficking, crisis line, restraining orders, family legal services, therapy , housing referrals, food referrals & distribution, health insurance by appointment, emergency clothing, hygiene products, diapers, case management, and other services as needed.
Shelter in Place While Living in Abusive Homes:
Domestic Violence is on the rise during shelter in place.  If you need services or resources contact Empower Yolo.  Our 24-hour crisis line is available any time if you need support at (530) 662-1133 or (916) 371-1907.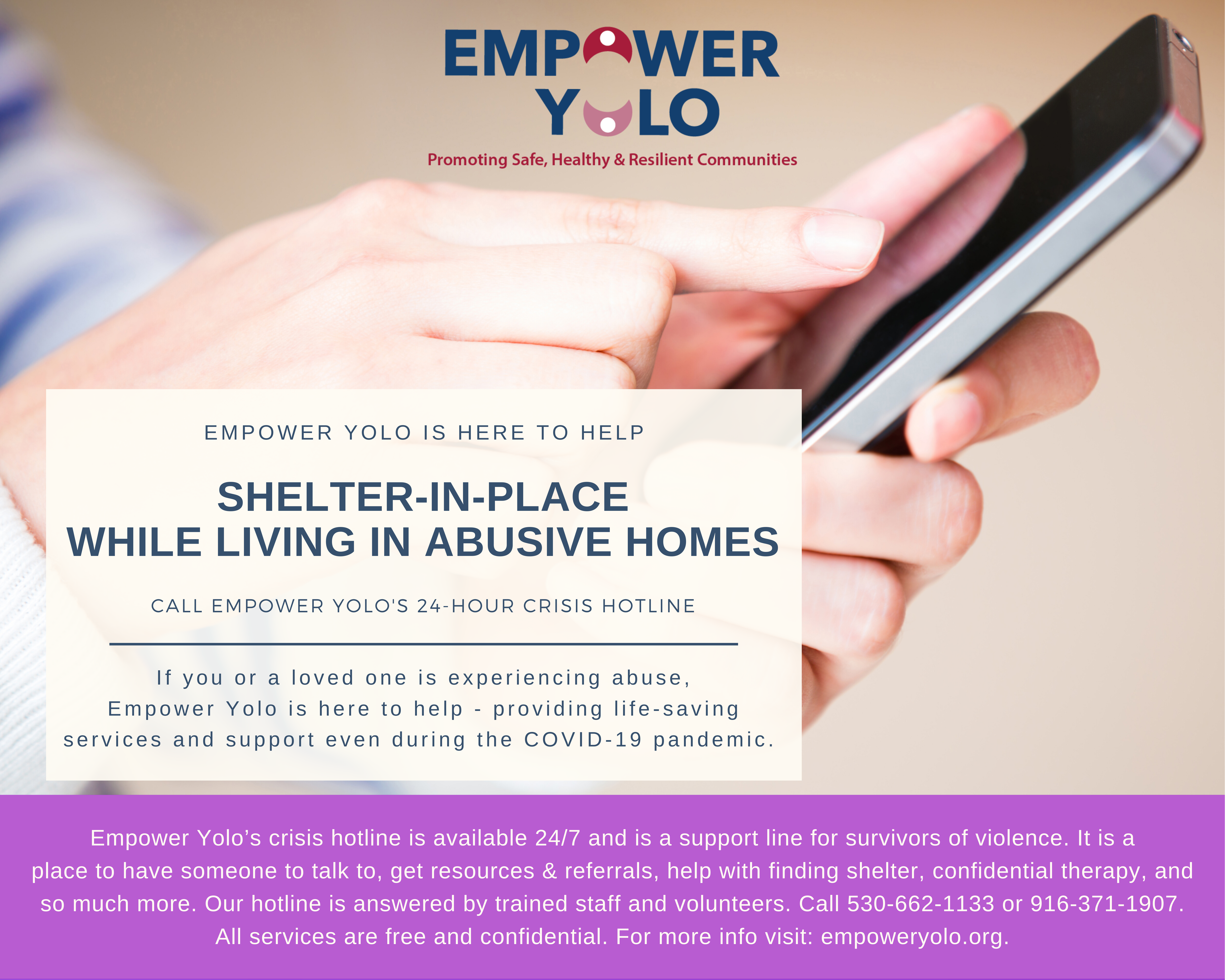 May
23
Sat
Empower Yoga

@ Empower Yolo
May 23 @ 2:00 pm – 3:00 pm
Empower Yoga
Saturdays from 2:00 to 3:00, enter through the clothing closet.
May
25
Mon
Exercise Group

@ Empower Yolo
May 25 @ 9:00 am – 10:00 am
Bilingual Play School Experience

@ DCCNS Playrooms
May 25 @ 10:00 am – 11:30 am
Bilingual Play School Experience
DCCNS playrooms (enter through the gate on 4th Street),
412 C Street, Davis.
Mondays and Wednesday for children ages 0-5 years old
Domestic Violence Support Groups (English)

@ Empower Yolo
May 25 @ 6:00 pm – 7:20 pm
Domestic Violence Support Groups (English & Spanish) 6PM-7:20PM
Location: 1025 Triangle Court, Suite 600,  West Sacramento
Directly behind the West Sacramento Police Department
Donating to Survivors & Families in Need During the COVID-19 Pandemic:
Thank you to supporters who have already made financial and in-kind donations to help Empower Yolo clients. If you would still like to donate we can always use help with our continuing emergency needs at this time.  Financial donations can be made any time
here.
   A list of the most needed in-kind donations are below.  We appreciate your generosity and support.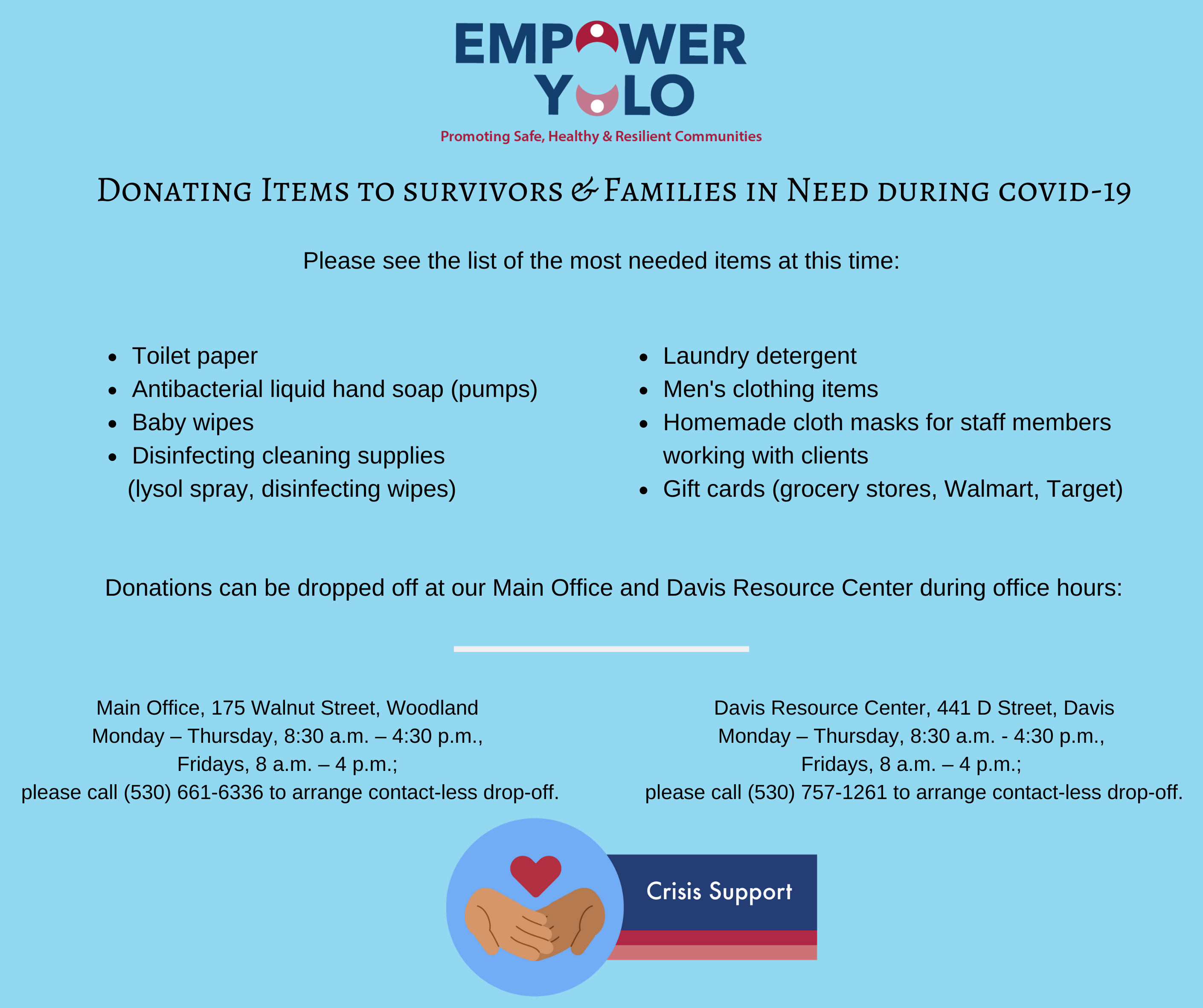 In The News at Empower Yolo
April is Sexual Assault Awareness Month and Child Abuse Prevention Month. As we adapt to an ongoing global crisis, Empower Yolo continues to support survivors of sexual assault amidst the challenges the coronavirus pandemic has created for our community. In the U.S.,...
read more
How Can I Help Empower Yolo?
Thank You to Our Generous Sponsors
Empower Yolo Resources Near You
Empower Yolo
Dowling Center
175 Walnut Street
Woodland, CA 95695
530-661-6336
D Street House
441 D Street Davis, CA 95616 530-757-1261
KL Resource Center
9586 Mill Street
Knights Landing, CA 95645 530-735-1776
West Sacramento
1025 Triangle Court, Suite 600
West Sacramento, CA 95605 (916) 873-8824
Family Resource Center - Marguerite Montgomery Elementary School