24/7 Crisis Lines
530-662-1133 / 916-371-1907
Empower Yolo Main Line
530-661-6336
Help is only a phone call away...
Join Empower Yolo in Providing Hope and Ending Violence Today
Volunteers are the lifeblood of our organization. Each year, Empower Yolo volunteers assist over 2,000 callers on our 24-hour crisis hotline. Volunteers staff the hotline, provide program support, and make up our Board of Directors. They are professionals, business leaders, and residents of our community. All advocates and crisis line volunteers complete an intensive 72-hour training program prior to working on the hotline.
Learn More about Volunteering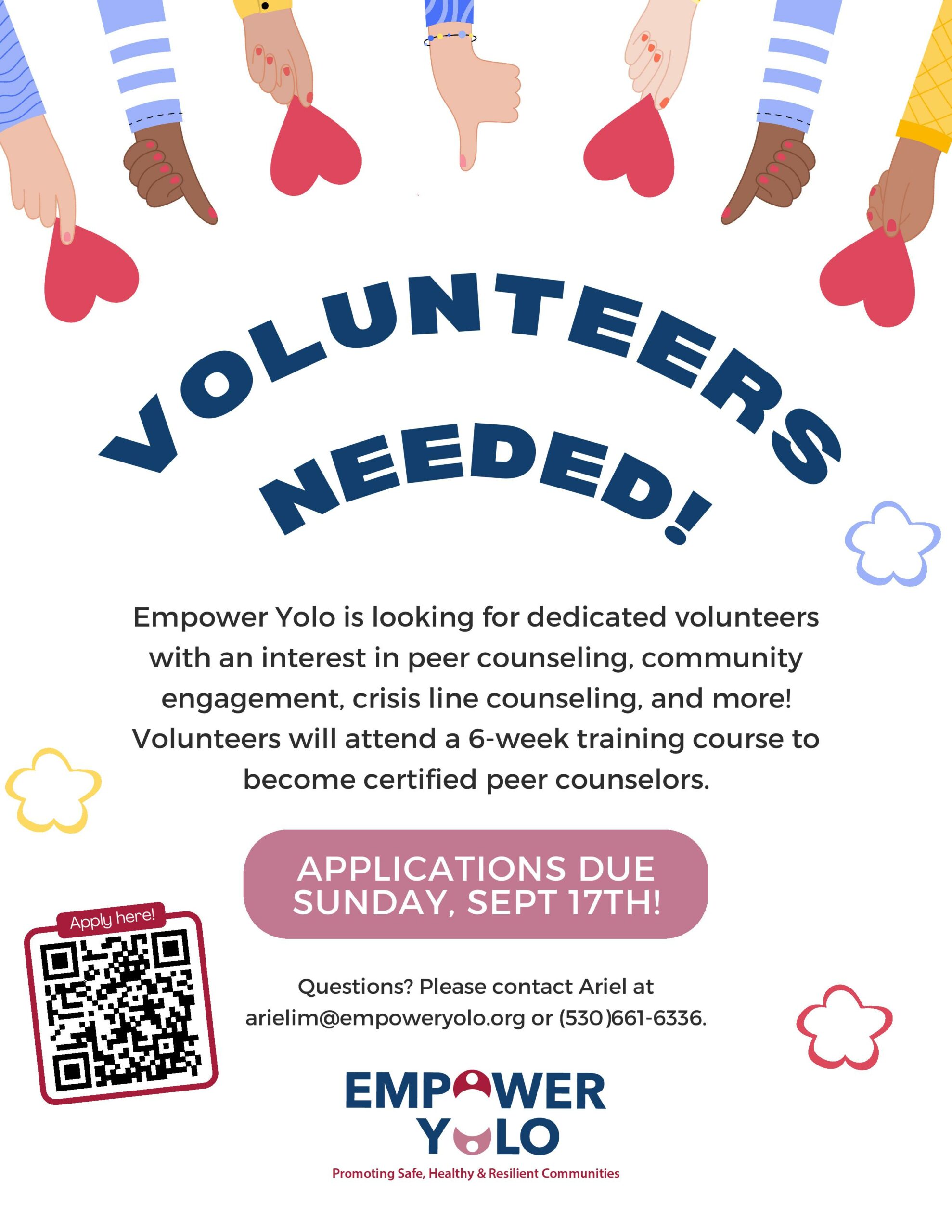 Volunteer with Empower Yolo:
​Thank you for the interest you have expressed in Empower Yolo and our volunteer training program. Our Fall 2023 Peer Counselor Training (PCT) will be a 5 week hybrid training model with virtual and in-person presentations, as well as weekly asynchronous assignments. The training will be virtual on Tuesdays and Thursdays from 5:30 p.m. – 10 p.m., and in-person on Saturdays from 8 a.m. – 4 p.m. in Woodland. Asynchronous assignments are due each Sunday evening.  Please note all training dates and topics are mandatory. Training dates are as follows: October 3rd, 5th, 7th, 10th, 12th, 14th, 17th, 19th, 21st, 24th, 26th, 28th, 31st; November 2nd, 4th.  All training dates are subject to change.
Application Process – Submit your completed application and resume to the Community Engagement Specialist at [email protected]; applications submitted without a resume will be considered incomplete. If your application is accepted, you will be invited to attend a group orientation and interview to learn more. Invitation to the training program will only be issued after a successful interview. Please note that space is limited, and spots are not guaranteed. Applications are due Sunday, September 17, 2023.
Minimum Volunteer Expectations:
At least a one-year internship
Maintain 12 hours of continuing education a year
Volunteer on a consistent weekly basis (~4hrs/week)
Attend monthly volunteer meetings (~2hrs/month)
All changes in shift schedules must be discussed and reported to the Community Engagement Specialist
Mandatory completion of monthly volunteer time sheets
Must be able to pass a criminal background check
Training Fee:
There is a $300 professional development fee for those who take the course but do not plan to volunteer with Empower Yolo. For volunteers, there is a $50 fee to cover the cost of materials. Arrangements can be made if this poses a financial hardship. All volunteers are required to give a $200 deposit. This deposit will only be cashed if the volunteer fails to complete training or does not follow through on their 4 hours/week commitment.
Volunteer Opportunities Include:
Crisis Line
MFT / Social Work Intern
Children's Program
Prevention and Education
Teen Education and Outreach
Russian, Latina, and Asian Pacific Islander Outreach
Legal Advocacy and Accompaniment
Administrative Assistance
Special Events and Fundraising
Grant writing
Download an application here Empower Yolo Training Application Fall 2023.
Volunteer to Help With Fundraising and Community Events
The Peer Training Class is not required. You can offer your energy and support of Empower Yolo in many ways such as volunteering to help with publicity and planning for fundraisers and educational events in the community.  We welcome volunteers to join us any time during the year.  Join us in planning and participating in our next event to support Empower Yolo.
If you would like to volunteer or have any questions, please contact Associate Director, Celina Alveraz at: [email protected].