Support Survivors and Families in Need this Year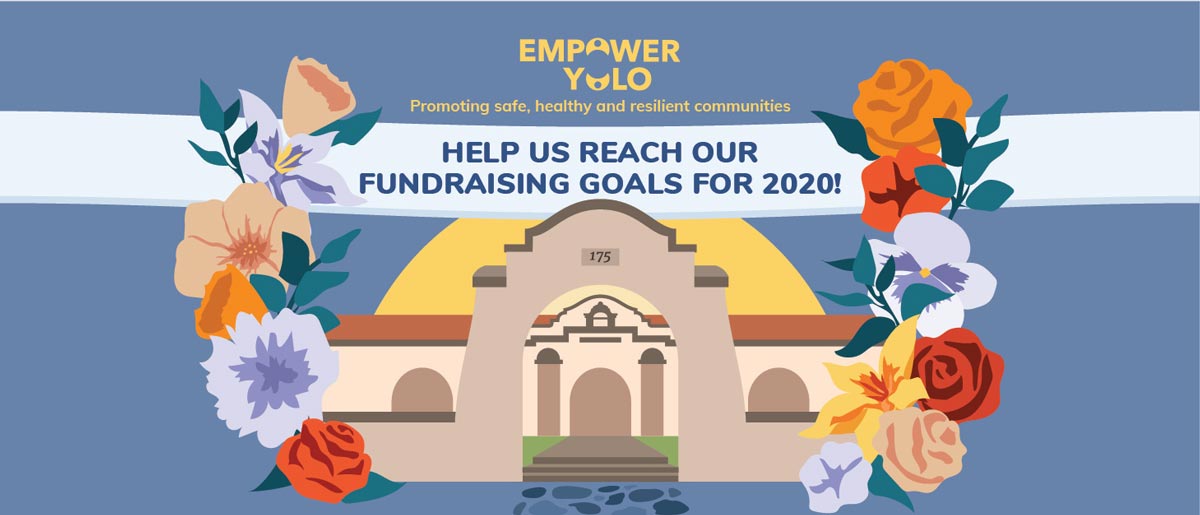 – In these trying times you can make a difference –
We hope you and your families are healthy and safe. We know that each day brings a new challenge for the community. Empower Yolo's services are considered essential and we remain open during regular office hours to provide services for the community. We are following protocols and taking precautions to keep our clients, staff, and volunteers healthy and safe. However, we are facing many challenges at this time.
As you can probably imagine, stress and uncertainty are amplified for survivors and their children that have recently experienced trauma and are displaced from their homes, or who may need immediate help. Our restraining order clinic is being utilized at an all time high because home is unsafe when you are living with an abusive partner. Clients who cannot work will not be able to pay for essentials such as their rent and utilities, food and prescriptions. Survivors residing in our shelters have less accessibility to go out to shop for food, supplies, and other important needs that have come up during this emergency. Every day new clients, community members and the homeless show up on our doorstep scared and in need of help requesting assistance from food, clothing and medicine to diapers, wipes, hygiene items and so much more. We want to be able to help any way that we can during this uncertain and stressful time.
We understand that the current pandemic has placed everyone under financial strain. If and when you can donate in the weeks and months ahead, your donation will help us support vulnerable members of our community. Our fundraising efforts will all be online through the end of the fiscal year. We are in the process of re-imagining our fundraising efforts because our annual fundraiser, Summer Solstice had to be canceled; we will be asking for your help over the next few months.
Our goal is to raise $100,000 by June 30, 2020 to support over 10,000 clients across our program areas that need help. Below is how your donation will help support survivors of abuse and families in need.
$5,000 – ensures a victim and their family are able survive the current pandemic for 3 months.
$2,500 – provides for one client's full stay at our shelter, 14 weeks, including advocacy.
$1,000 – helps subsidize rent for a survivor and their family in our community.
$750 – provides 8 weeks of prevention education.
$500 – covers the application fee for one Deferred Action for Childhood Arrivals (DACA).
$250 – provides a client clinical therapy sessions via video conferencing.
$120 – provides legal advocacy to obtain 1 restraining order.
$50 – provides grocery gift cards to a survivor and their family.
$25 – provides 1 night of shelter at our safe house.
We have a generous matching gift of $99,000 thanks to Dr. Stuart Starkweather and Mrs. Melissa Starkweather to help us reach our goal this year. For every dollar you donate to Empower Yolo it will be matched dollar-for-dollar up to $99,000! This amazing gift will help Empower Yolo with our emergency needs and funding some of our unfunded programs and services.
We wish you safety and good health as you navigate your own challenges through the COVID-19 pandemic. Together, we can continue to provide a safety net throughout our county to identify individuals in need, to connect them with resources to keep them safe, healthy and resilient.
Learn more about the many programs Empower Yolo offers to support Survivors and Families in Need by reviewing our website (empoweryolo.org).