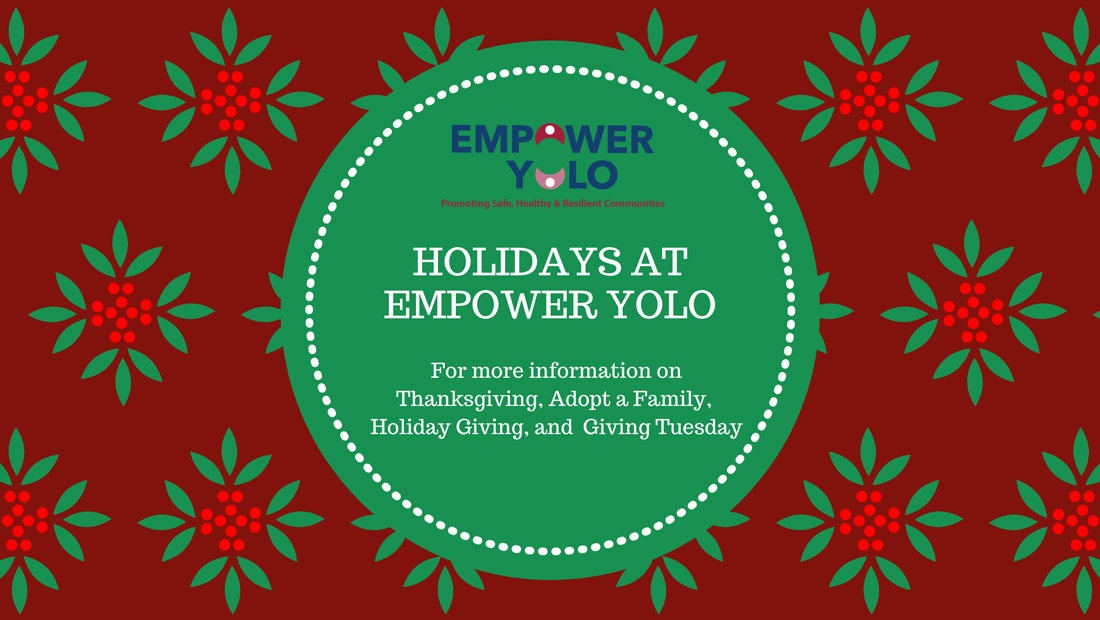 Holidays at Empower Yolo 2020
Please join Empower Yolo this holiday season in giving back to the community and supporting survivors of abuse and vulnerable families.
We have several opportunities for giving this holiday season:
Adopt a Family
Thank you to all the donors who "adopted" Empower Yolo clients for the holidays. We are nearly covered for our "Adopt a Family" program. However, we have so many other opportunities you can participate in if you are interested.
Holiday Giving
Please consider donating items from our general wish lists for clients that come to us last minute. We could still use support for our "moms for the holidays" or "Santa's playroom in the shelter" to support the children residing at the shelter. We also have a "Rooms to Go" program to help families in our transitional housing program. If you are interested in giving in any of these ways you can learn more about these programs and find the wish lists below. Click on the links to view each general wish list:
Our clients can always use these items, and we always get last minute clients and families during the holidays where these gift items are greatly appreciated.
This year we also have many more clients and their families experiencing food insecurity. We are asking interested supporters to donate grocery gift cards for groceries for holiday meals, or for warm prepared meals. Gift cards to any grocery store (Grocery Outlet, Safeway, Nugget, or Raley's), or fast food restaurant for any denomination are welcome and greatly appreciated. Donations can be dropped off any time during office hours.
Triple your impact for Empower Yolo during our "Month of Giving"!
We have a generous, anonymous donor who will match another $10,000 for our Month of Giving that started on Giving Tuesday through the end of the year.
Together with Michael Starkweather, DPM's and Danielle Starkweather, RN's match for $18,000, your donation will be matched 2 to 1 for the first $10,000. The impact of your donation will be tripled! Your donation won't just provide 1 restraining order, but 3 restraining orders for victims of domestic violence, and 1 night of shelter is now 3! 
This year-end giving will help support our increased services and unfunded programs for the thousands of women, children, men and families in need that we serve, especially during this challenging year. We are thankful to all of the wonderful donors who already gave during our Giving Tuesday campaign, and if you didn't have a chance, give now so that your dollars and your impact are tripled.  Donate any time at: empoweryolo.org.
For questions about any of these giving programs please contact: [email protected], or 530-661-6336.
Donations for clients can be dropped any time off during office hours.
Empower Yolo Office Hours:
Main Office – 175 Walnut Street, Woodland: Monday – Thursday, 8:30 a.m. – 4:30 p.m., Friday, 8 a.m. – 4 p.m.
Davis Resource Center – 441 D Street, Davis: Monday – Thursday, 8:30 a.m. – 4:30 p.m., Fridays, 8 a.m. – 4 p.m.
Thank you for your generosity and support this holiday season!
Donate for the Holidays
Please take a moment to support the many wonderful programs provided by Empower Yolo.