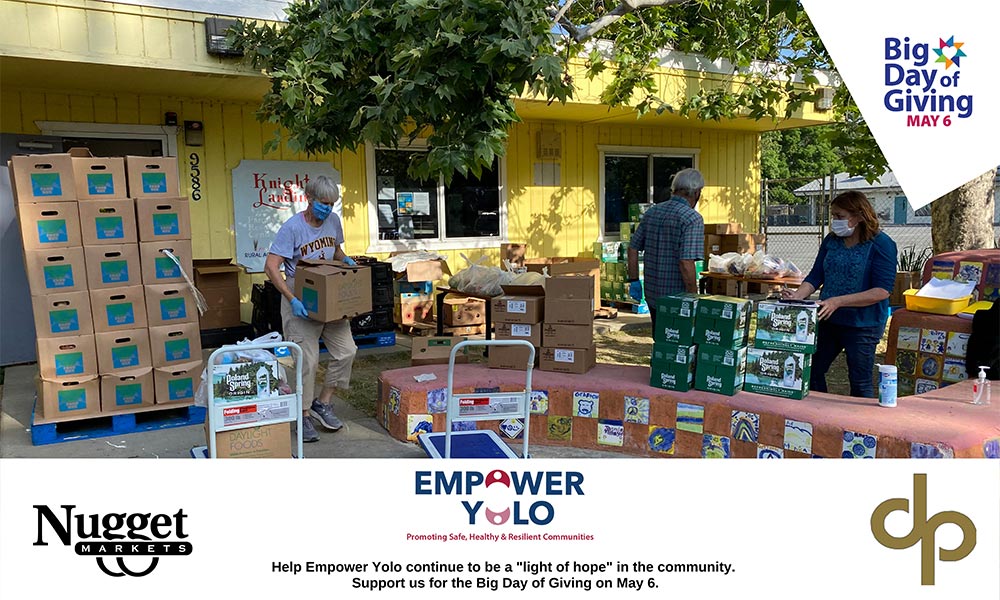 2021 Big Day of Giving: Empower Yolo
 "Light of Hope"
"Nothing can dim the light which shines from within."– Dr. Maya Angelou
Like Maya Angelou, we believe the human spirit can overcome extreme obstacles and still shine within. As an organization, Empower Yolo's mission is to promote safe, healthy, and resilient communities.  The people of Empower Yolo—our staff, board of directors, and volunteers—are all committed to brightening the lives of community members, including those in crisis, with purpose, respect and appreciation of their strengths while honoring their cultural practices and traditions.
Throughout the past year, Empower Yolo has been steadfast and here for our clients and the community, a lighthouse remaining strong and present during the pandemic.
Because of donor support last year Empower Yolo was able to help many survivors and families in need in our community.  We were able to provide many services and resources, and even expand services to meet increased needs during a difficult year.
Empower Yolo continues to be a "light of hope" in the community and is serving clients at a high rate moving through the COVID-19 pandemic by: sheltering survivors of abuse and their children; providing restraining order clinics throughout Yolo County as domestic violence cases have risen throughout the year; continuing food distribution at our resource centers; offering therapy sessions and extending online support groups; providing after school support for youths and their families; supporting the immigrant community; providing resources and support for the homeless and those at high risk for COVID-19; providing COVID outreach and testing sites; support with filing taxes; and helping clients with emergency needs such as food, clothing, rent, utilities, childcare and so much more.
We are excited to announce that we have $17,500 in matching funds thanks to several generous donors. A special thank you to Susan Starkweather Stone, Pam Marrone and Mick Rogers, Nugget Market, 2 anonymous donors, and Dan Parrish Insurance Foundation (Dan & Nancy Parrish, long-time residents of Woodland).  We appreciate your generosity and support!
Double the impact of your donation for the clients we serve and help Empower Yolo continue to be a lighthouse of hope in the community. We hope you will find it in your heart to give to Empower Yolo this year and support us for the Big Day of Giving any time now through May 6 at: www.bigdayofgiving.org/empoweryolo.