24/7 Crisis Lines
530-662-1133 / 916-371-1907
Empower Yolo Main Line
530-661-6336
Help is only a phone call away...
Join Empower Yolo in Providing Hope and Ending Violence Today.
Volunteers are the lifeblood of our organization. Each year, Empower Yolo volunteers assist over 2,000 callers on our 24-hour crisis hotline. Volunteers staff the hotline, provide program support, and make up our Board of Directors. They are professionals, business leaders, and residents of our community. All advocates and crisis line volunteers complete an intensive 65-hour training program prior to working on the hotline.
Empower Yolo's Peer Counselor Training is offered bi-annually in the Spring and Fall each year.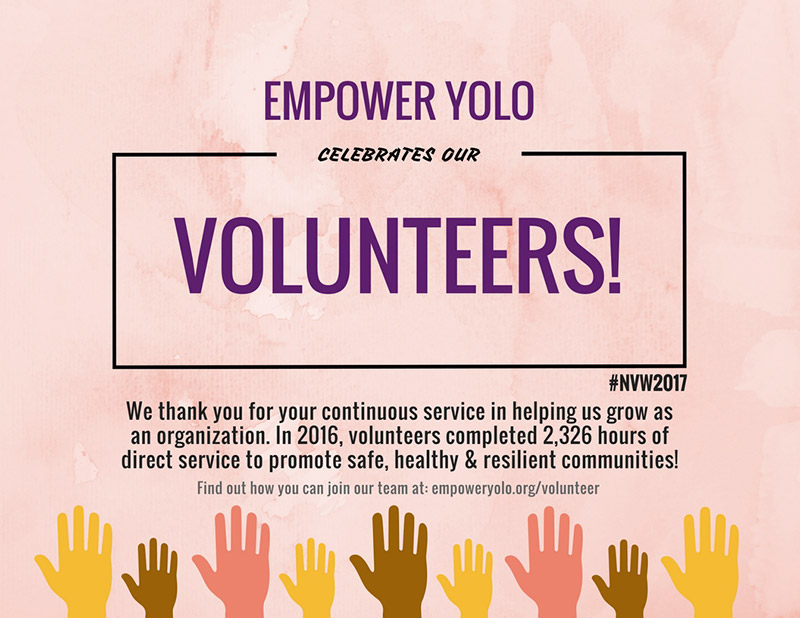 Learn More about Volunteering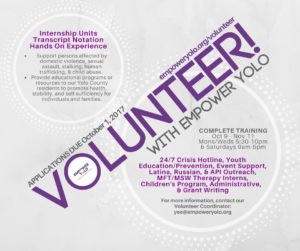 To learn more about volunteering with Empower Yolo and to apply go to: EmpowerYolo_PeerCounselorTrainingFall2017_Application
Volunteer Opportunities Include:
Crisis Line
MFT / Social Work Intern
Children's Program
Prevention and Education
Teen Education and Outreach
Russian, Latina, and Asian Pacific Islander Outreach
Legal Advocacy and Accompaniment
Administrative Assistance
Special Events and Fundraising
Grantwriting
Friends of Empower Yolo: Volunteer to Help With Fundraising and Community Events.
Become a Friend of Empower Yolo. The Peer Training Class is not required. You can offer your energy and support of Empower Yolo in many ways such as volunteering to help with publicity and planning for fundraisers and educational events in the community. The Friends sponsored Seven: the Play in October 2015, Shower for the Shelter in April 2016, Cake Auction at Solstice Celebration in June 2016, Supported Families during the 2015 & 2016 Holiday Season, Donated gifts to the Shelter on a regular basis. We welcome Friends and Supporters to join us in planning and participating in our 40th Anniversary celebrations in 2017.
If you would like to join us, please contact: yee@empoweryolo.org