G.A.T.H.E.R. Around Our Kitchen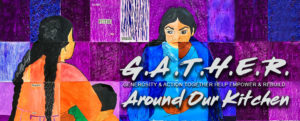 Empower Yolo's mission is to promote safe, healthy, and resilient communities. Among our many programs, we provide a safe house for victims of domestic violence, sexual assault, stalking and human trafficking. More than just a temporary refuge our confidentially located shelter provides a comprehensive empowerment program designed to assist survivors in becoming independent, empowered and safe from the violence in their lives.
The current safe house, the Wallace and Vannucci Shelter, opened to residents in November of 1999 and since that time over twenty-five hundred women and children have passed through its doors. When the shelter was built, no one could imagine a day when the nine-bedroom, 25 bed shelter would be filled to capacity. By 2014 there was rarely an open bed and the staff often moved residents around and rearranged the furniture to squeeze in "just one more." In 2015, the agency added two more bedrooms giving the shelter a total of 35 beds. While the bed count rose the size of the kitchen did not. In 2017, Empower Yolo provided 10,932 bed nights to 238 women, men and children.
The Need
In most homes, the kitchen is a focal point, a place where families begin and end their day, a place to gather around and take in the comforting smells of a favorite meal. Kitchens are a familiar place, even in unfamiliar surroundings.
However, the current kitchen at the shelter has not been updated since it was built and does not provide adequate space or storage for the many families using it. The space is cramped, cabinets are worn out and appliances are old and in constant need of repair.
Too Many Cooks in the Kitchen? Not anymore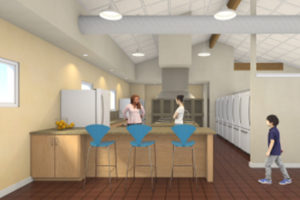 The finished facility will dramatically improve our ability to support individuals and families who come to us at the most difficult times of their lives. Our residents will know that this is a place that was built with them in mind, a clean and comfortable place to prepare food and share meals with their families providing comfort and healing for all survivors and their children.
With new cooktops and a central island, more sinks and refrigerators, and plenty of pantry space, our new kitchen will offer an at-home atmosphere, with opportunity for in-house community building.
Help Empower Yolo and the families living in its safe shelter.
Gather around our kitchen!
Our dream kitchen will be five kitchens in one—with two ovens, four sinks, five cooktops, and ten refrigerators. The shelter kitchen will have enough space and appliances so that multiple families can cook and eat meals in the kitchen at the same time.
How will you support our dream?
$50,000 The Family Dinner Donor Funds the appliances and storage lockers, for one of the five work spaces within the shelter's multi-family kitchen
$25,000 A Heart of the Home Donor Funds the walls, the floors, the ceilings—all those things that create the space for our dream kitchen
$10,000 A Food is Love Donor Funds the breakfast bar, where moms can easily serve their kids a quick, nutritious breakfast before heading to school
$5,000 A Dinner's in the Oven Donor Funds the two ovens and their installation, ensuring the mouthwatering aroma of dinner roasting or cookies baking will fill the air
$1,000 A First Course Donor Like an appetizer is the perfect beginning to a meal, this donation gets our kitchen remodel off to a great start
$500 An A La Carte Donor Help fund all the extras that make a kitchen function, and complete our dream
If you would like to support our shelter kitchen campaign please mail your donation to: Empower Yolo, 175 Walnut Street, Woodland, CA 95695; please write "Gather Around Our Kitchen" on your check; or donate online.
Gather Around Our Kitchen Campaign Leadership – Linda Katehi and Emily Prieto-Tseregounis
Empower Yolo is a 501(c)(3) nonprofit, charitable organization. Our tax ID number is 94-3027535. Your gift may qualify as a charitable deduction for federal income tax purposes. Please consult with your tax advisor.