Empower Yolo
provides twenty-four hour crisis intervention, emergency shelter, confidential counseling, training, legal assistance, and other services for individuals and families affected by domestic violence, sexual assault, stalking, human trafficking, and child abuse.
Empower Yolo
provides resource centers for community services to improve the health, social, educational and economic outcomes of Yolo County residents.
Empower Yolo
provides community outreach and educational programs about available resources to promote health, stability, and self-sufficiency for individuals and families.
Help is Only a Phone Call Away
Empower Yolo is here to help. You are not alone. Trained advocates are available 24/7 to provide free crisis intervention, emotional support, advocacy, information and referrals.
All calls to Empower Yolo are private and confidential.
24/7 Crisis Lines
530-662-1133 / 916-371-1907
Empower Yolo Main Line
530-661-6336
Help is Only a Phone Call Away
Click to Call
(Free, Private, and Confidential)
February is Teen Dating Violence Awareness Month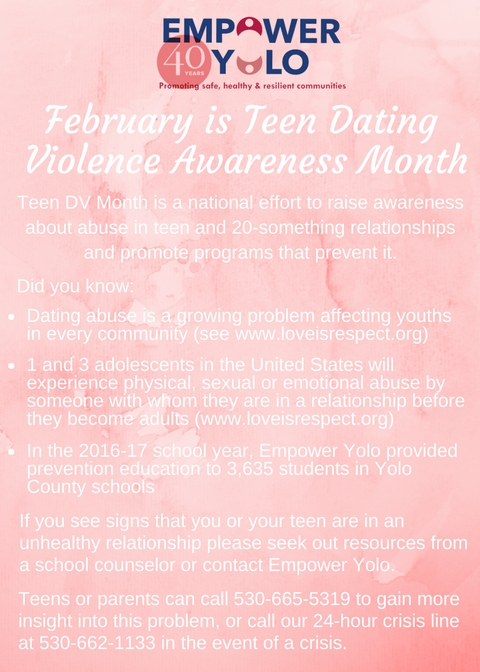 Please see the article in the Davis Enterprise on Teen Dating Violence Awareness Month and for more information on the events Empower Yolo is highlighting in February here.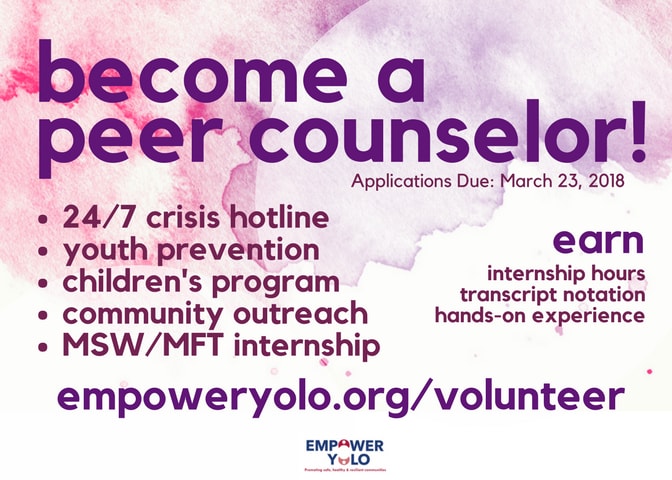 In The News at Empower Yolo
Empower Yolo, founded March 4, 1977, enjoys a rich history of providing services for survivors of violence and helping families stay safe and healthy for the past 40 years. "This year, Empower Yolo will be celebrating more than its 40th year of operation; we celebrate...
read more
How Can I Help Empower Yolo?
Thank You to Our Generous Sponsors
Empower Yolo Resources Near You
Empower Yolo
Dowling Center
175 Walnut Street
Woodland, CA 95695
530-661-6336
info@empoweryolo.org
D Street House
441 D Street Davis, CA 95616 530-757-1261
KL Resource Center
9586 Mill Street
Knights Landing, CA 95645 530-735-1776
West Sacramento
1025 Triangle Court, Suite 600
West Sacramento, CA 95605 Crisis line 916-371-1907
Family Resource Center - Marguerite Montgomery Elementary School